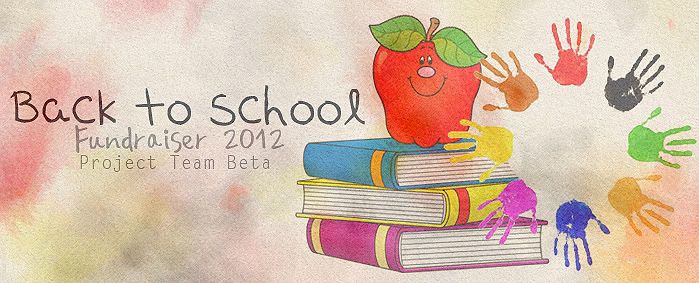 This is a community of  teachers (certified and not) and students (young and old). We have all been brought together by one common denominator: our love for writing. And with that comes our joy for reading and our want for improving. Where would we be today without the education we received as a child? It's a tough time right now, and we're here hoping to help a classroom suffer just a little bit less.
With just a minimum donation of $5.00, you can help teachers and students worldwide and receive a yearbook of stories written by your fellow community members.
Graphics created by FrozenSoldier.
Events
Donate a Story
Donate Money
Help a Fandom Teacher
Contributing Authors
Chatroom
As a thank you for donating, donors will receive a compilation of unpublished stories from various authors. All authors from all fandoms and original fiction are welcome to submit a story! As an author, you will receive the compilation without having to donate money. To sign up to donate a submission, please fill out an
application
.
All story submissions are due by August 26.
1. Donate a minimum of $5.00 to a classroom at:
2. If you live in a country not listed above and want to donate to a local charity, please email the charity URL to b2sfundraiser@projectteambeta.com for approval.
3. If you are a teacher and have your own fundraiser going on, please email b2sfundraiser@projectteambeta.com a URL to your charity for approval and your FF profile URL and Pen Name to be listed here.
4. If you don't receive a "Thank You" email within a week after forwarding your receipt, contact the above email address ASAP.
5. Yearbooks will be distributed September 1.
This fandom is made up of teachers: betas, authors, readers, lurkers. And some of them need our help. Below are their own personal fundraisers for their classrooms.
1. Sewing a Small Business on DonorsChoose – Goal: $568
This chatroom can only hold 75 people at once. If it's full & you get an error message, please email lulum@projectteambeta.com ASAP.