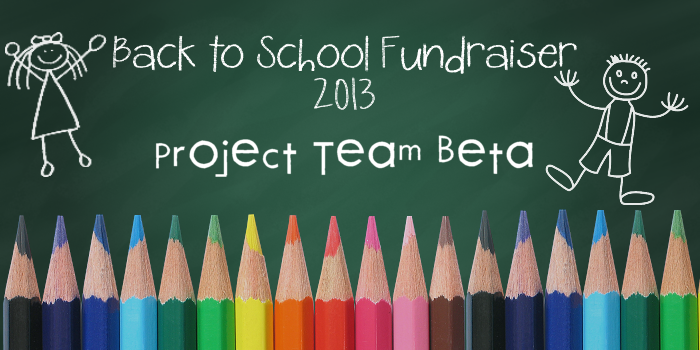 This is a community of  teachers (certified and not) and students (young and old). We have all been brought together by one common denominator: our love for writing. And with that comes our joy for reading and our want for improving. Where would we be today without the education we received as a child? It's a tough time right now, and we're here hoping to help a classroom suffer just a little bit less.
With just a minimum donation of $5.00, you can help teachers and students worldwide.
Graphics made by Christag Banners.
Pledge-a-thons
How to Donate Money
Help a Fandom Teacher

Browse through our listed pledge-a-thons for something that fancies you. You can apply for as many pledge-a-thons as you want, but you need to donate a minimum of $5 to a charity for each individual pledge-a-thon.

*Click for larger image

Blue iPod Shuffle and Earbuds
The iPod shuffle is a few years old, but its never been used and is still in brand new condition. The earbuds came from an iPhone5 purchase and have also never been used.

Goal: $100

Terms: If the goal is reached, all pledgers will be submitted into a raffle for the item. Every $5 donation counts as one raffle ticket.

Pledges So Far: $0

Listed by Lulu M

Help us reach our goal of $2000 and donate a one-shot/outtake/book(s)/giftcard/etc. into our pledge-a-thon. More information and sign up.
1. Choose a Pledge-a-thon you would like to participate in and then fill out the pledge-a-thon form. If you would like to donate on behalf of multiple pledge-a-thons, you must pledge a minimum of $5 to each individual pledge-a-thon. Also be sure to fill out each form for each individual pledge-a-thon.
2. Pledge to donate a minimum of $5.00 to a classroom at any of the following charities. You can donate whenever you want, but all donation must be turned in by September 30, 2013 in order for your pledge to be counted toward the prize.
3. Forward your donation receipt to b2sfundraiser@projectteambeta.com by September 30, 2013.
4. If you live in a country not listed above and want to donate to a local charity, please email the charity URL to b2sfundraiser@projectteambeta.com for approval.
5. If you are a teacher and have your own fundraiser going on, please email b2sfundraiser@projectteambeta.com a URL to your charity for approval and your Story profile URL and Pen Name to be listed here.
6. If you don't receive a "Thank You" email within a week after forwarding your receipt, contact the above email address ASAP.
This fandom is made up of teachers: betas, authors, readers, lurkers. And some of them need our help. Below are their own personal fundraisers for their classrooms.
If you are a fandom teacher, please list your charity on Donors Choose and email the URL to b2sfundraiser@projectteambeta.com.
If you have another site in mind, please send the URL to the above email address for approval.