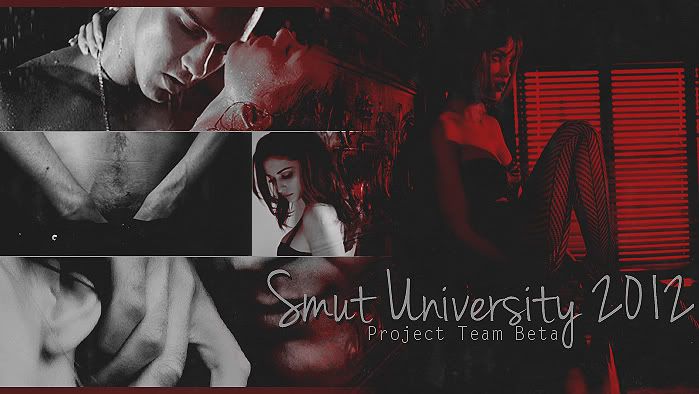 It's time to get your smut on for summer 2012! SmutU is back! We have a new format, new professors, new classes, and new homework assignments! Don't miss out! Join in on the fun and write smut alllllllllll summer long! Fill out a Student Application today!
Curious about what you'll be getting? Check out SmutU from 2010 and 2011.
What do you get as a student? The chance for you and your homework to be featured throughout the summer on the PTB site and in the Back to School Fundraiser yearbook, private question and answer with your professors, and more!
Graphics created by FrozenSoldier.
Featured Student Work
Course Schedule
School Events
Forum
Faculty
Chatroom
1. Summer Reading – If you ever get bored and have already read all of your fellow classmates homework assignments, check out this topic or add to it!
2. Goals – Besides having fun and being an overall inappropriate, raunchy individual, what are your goals this summer?
3. Student and Fic Spreadsheet – Fellow classmate, RaindropSoup, has created a spreadsheet with links to each student's assignment with a form where you can add your own!
Lulu M
Duties: Dean of Smut University
I'm a very raunchy and inappropriate individual. I find it wonderfully entertaining to make people squirm by saying random things on smut, poop, farts, anal, masturbation, etc. etc. My closest friends are already desensitized to the things that come out of my mouth, so beware.
---
AngelycDevil
Duties: Features
I'm a sort of shy individual who doesn't skitter around the bushes. But I do try to tell the truth in a nice way so it doesn't hurt as much. I have a very black-and-white perspective of life. What you do is your choice and I won't interfere with that but if I don't like it, I'll stay away. I'm also extremely loyal so if I'm your friend and I happen to like you, you'll have me for life. Oh, and I like to laugh. ;D
---
CeeCee A. Picanzo
Duties: Promotions
My Motto: If you ship it…write it. I'm really shy but outgoing once you get to know me. A dork till the end, I still blush whenever my smutty mind writes a scene. My husband says I'm a tease and I feel most sexy when I'm thinking up dirty, naughty things to do with my characters. I enjoy writing even if I'm slow at it so encouragement is always appreciated!!
---
eDWards.headboard
Duties: Features
---
RaindropSoup
Duties: Promotions
Busy body who likes reading smexy things. Writing them, on the other hand, makes me squirm and sweat for a whole different reason. If only the dirty little things we say in real life could be so deliciously funny and easy to transform on paper, huh?
---
This chatroom can only hold 75 people at once. If it's full & you get an error message, please email lulum@projectteambeta.com ASAP.